Shaping digital solutions, we always talk about what we want to achieve, how and when we will be successful. This means discussing what digital is all about. My favourite way of position digital is to make lives easier, more fun, more challenging and more exciting. In fact: more life, less hassle. In the past we may have lacked the tech to realise what we needed to realise the less hassle vision. Nowadays tech is abundant, so the focus shifts away from tech itself and towards the genuine value of applying it.
The real challenge is no longer the technical realisation itself; technical realisation 'just' delivers the features. And features don't matter that much anymore; it is far more important to focus on the user value created – and perceived – by usage of the underlying technical features. This means taking a personal standpoint and approach when sketching the solution from the probable user perspective. We should ask ourselves, and of course our users: How can we make a difference? How can we honestly contribute with value to your lives?
There are three ways to touch people with digital solutions.
The first one is physically; what do we bring to their hands. Of course, it is important to put solutions in the hands of the users and receive feedback. But the physical interaction is the lowest inspiring for me. It is touched by them, but is not moving them…
The second, one level above the physical, is the mind. Consider this the mental perception of a solution, a concept or even an idea. We tent to shake people and make them think about new possibilities, new horizons even. We can clearly see that not only they touch; they are also touched by it… We moved them.
If we are able to put a smile on the face of the user and truly make them wonder beyond just an idea, we might even be able to touch their heart. This is where true value comes to live. It serves the most precious interaction, the most valuable relation, the most precious aspect; our lives.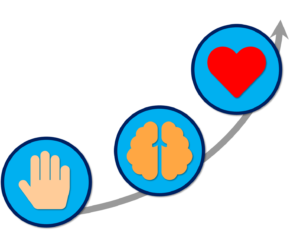 The real question therefore is not how to get in the hands of users, or even in their mind, although both important. The real challenge is how to get in their heart. To move them. To really touch them. Being able to touch user's hearts is a great indication for long term success as it creates a bond beyond the physical and mental. So, I challenge you all: make a difference with Digital. Move people by touching their heart.
---
(*) This post was previously featured on labs.sogeti.com